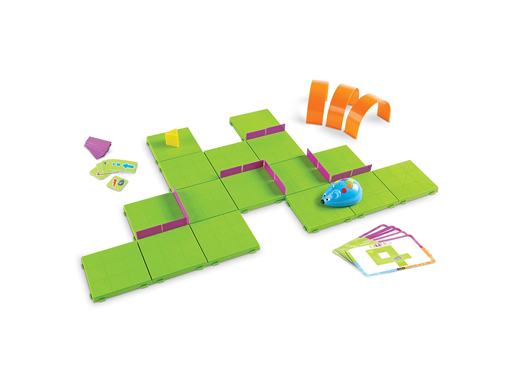 Learning Resources Code & Go Robot Mouse
The game created by the Learning Resources brand, teaches children to develop computer codes and logical thinking and does so in an especially fun way! The children build a maze using the maze boards and later by using the encoding card they create an exit route for the cute robot mouse called "Colby". Colby is a racing mouse that produces sounds and light. There are a variety of ways to create a maze for him. The game is especially suitable as a gift for children and teenagers who love computers, games and brain teasers.
The game set includes: 16 maze nets, 22 maze walls, 30 encoding double-sided cards, 10 game cards double-sided, three tunnels, a robotic mouse and a detailed user guide.
The game allows children to recognize basic writing computer codes.
The game develops logical thinking.
You can add more robot mice for other players – sold separately.
The mouse has 2 speeds to choose from.
Requires 3 AAA batteries (not included).
Dimensions: 16.2X3X12.5 inches.
Suitable for children over age 5.
You can buy only the mouce from: Learning Resources
Or The all set from: