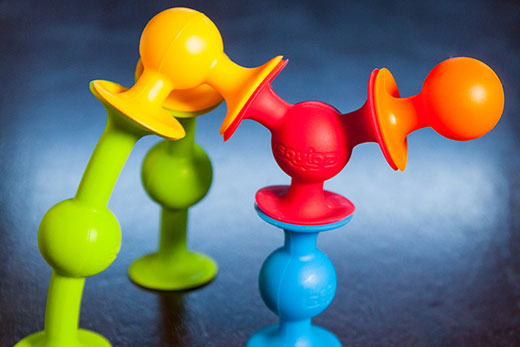 Squigz Vacuum Game
There is no limit to what you can do with the Squigz Vacuum Game!!! Necklaces, pots, towers, vehicles, animals and basically – what can't you do with it?!?!. The game comes with 50 Squigz units from silicon of various forms operating on vacuum and can be adhered to each other easily. The Squigz units are colorful, diverse and flexible, and they can adhere to surfaces as well, such as: doors, tables, windows, closets and more. This is a fun game that encourages creativity and motor skills, and is a great gift for children or grandchildren.
The Squigz colors: purple, green, blue, orange, white, red and yellow.
Materials: silicon rubber.
Dimensions: 3.1X2.8X5.9 inches – each Squigz unit.
Warning Label: suitable only for children over 3 years old – includes small pieces (that would not be appropriate for those under 3).