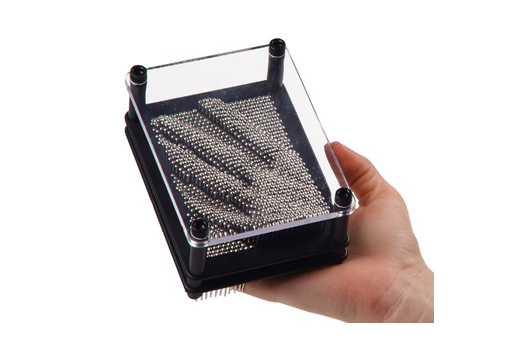 Pin Art by Toysmith
The Pin Art game ignites the imagination and allows you to easily create three dimensional artwork.  This is a classic craft, fun and especially suited to older children and teens. The game includes hundreds of moveable pins made of metal fixed in a sturdy, yet light-weight frame, and which with your help, produces 3-D forms and shapes. The Pin Art game can be set up on a table in the children's room or anywhere else in the house, on a shelf, desk or bookcase.  It's a game and also a piece of decorative art.
Colors: Black and metallic.
Dimensions: 5 x 2.5 x 3.8 inches.
Materials: Plastic and metal.

Manufacturers' warning:

The game is suitable for children 8 years and older.  If the game is being played by younger children, then adult supervision is required!