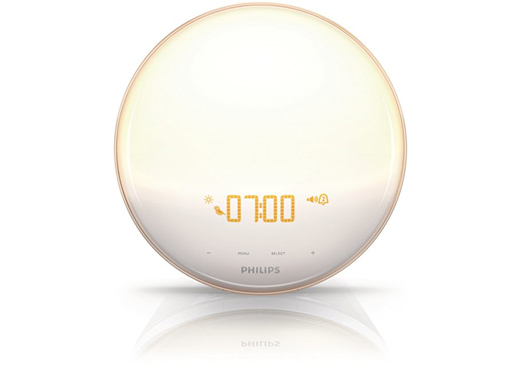 Alarm Clock by Philips HF3520
It's fun to wake up in the morning with the Philips alarm clock. Adjust the clock to the preferred hour you want to wake up, and it will begin to illuminate the room gradually 20- 40 minutes before you want to wake-up, from a soft light up until it reaches a natural lightening that wakes you up. You can choose from 5 naturalistic tunes that comes built- into the clock. The alarm clock also has a "snooze "mode, an FM radio, you can adjust the radio by using advanced touch technology. The Philips alarm clock is a great gift for adults and even teenagers who struggle to get up and out of bed every morning.
According to a study that was conducted by external researchers the alarm clock proved to provide a more pleasant and more efficient awakening experience.
The alarm clock simulates a sunrise lighting.
The alarm clock features a "snooze" mode, dim lighting for reading and a selection of five tunes to wake-up with.
Color: white.
Materials: plastic – like glass.
LED screen display.
Safe for children.
Easy to operate.
A stylish and modern design.