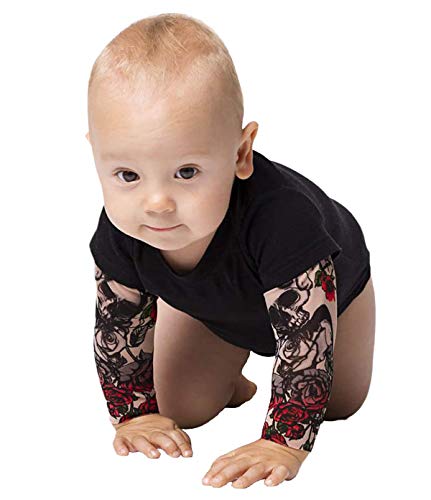 Wild Rose Tattoo Sleeve Shirt
You dont half to wait till puberty any more. with this cool tattos shirt your little baby can looked like a rockstar right now!
The shirt is made from cotton and the tattos are printed on its sleeves in a way that makes them look like real tattos.
This shirt is not made for anyone, but only for parent that belive rock&roll will live forever!
Toddler Tattoo Sleeve Shirt
No need to wait until you're a teenager, babies can look just like rock stars even at one year old with this cool tattoo shirt. The shirt is made from cotton and the tattoos are printed into the sleeves, so that it looks very realistic – as if the little baby has genuine tattoos!  The tattoo shirt is an original quality gift idea, but it's not for everyone, it's only for parents and babies that believe rock'n roll is forever!
Choose from several sizes:  6-12 months, 12-18 months and 18-24 months.
The tattoo shirt is made with 100% cotton.
Colors used are top quality and do not fade after laundering.
You can buy it from Etsy or from: